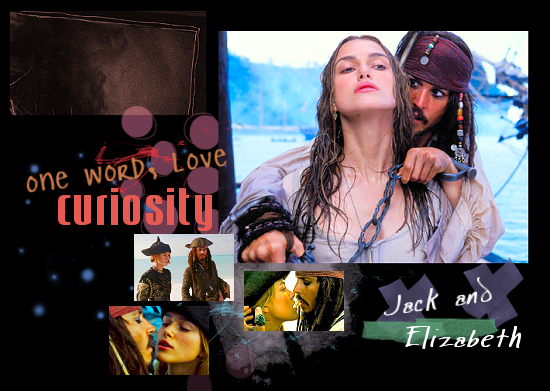 Elizabeth: So that's it, then? That's the big secret, the grand adventure of the infamous Jack Sparrow? You spent three days lying on a beach drinking rum?
Jack: Welcome to the Caribbean, love.
- Pirates of the Caribbean: The Curse of the Black Pearl
Welcome to Curiosity, the fanlisting for the relationship between Jack Sparrow & Elizabeth Swann that's listed at The Fanlistings Network & The Movielistings Network. If you're a fan of Jack & Elizabeth, please consider joining! It's easy, it's free, and it just shows that you're a fan! :)
Fanlisting Stats
Online since: 04th September 2011
Last update: 22nd March 2019
Current members: 1042 (+ 0)
Newest member(s): Rachel
Category: Relationships: Book/Movie
The Jack Sparrow & Elizabeth Swann fanlisting was previously owned by Michi and also by Morgan, and has an original opening date of October 16, 2003.



Website
Disclaimer
: This is just a fansite. I don't know anyone that's a part of the Pirates of the Caribbean series. I'm just a fan like you.