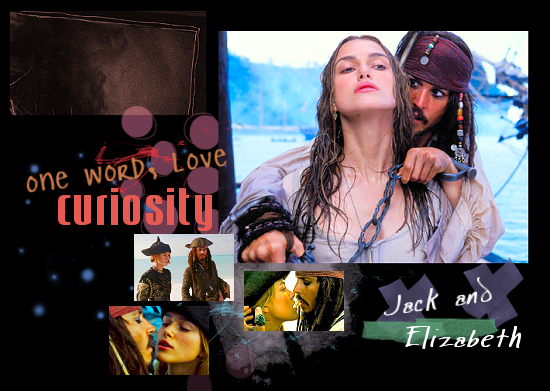 Captain Chevalle: There has not been a king since the first brethren court, and that is not likely to change!
Captain Teague: Not likely.
Elizabeth: Why not?
Gibbs: Because the pirate king is elected by popular vote...
Barbossa: ...and each pirate only votes for himself.
Jack: I call for a vote.
Captain Ammand: I vote for Ammand, the Corsair!
Captain Chevalle: Captain Chevalle, the penniless Frenchman!
Mistress Ching: Mistress Ching!
Captain Jocard: Gentleman Jocard!
Elizabeth: Elizabeth Swann.
Barbossa: Barbossa.
Captain Vallennueva: Captain Vallenueva.
Jack: Elizabeth Swann.
Elizabeth: What?
Jack: I know. Curious, isn't it?
- Pirates of the Caribbean: At World's End
Join the Fanlisting
Please use the form below for joining the fanlisting. Please hit the submit button only once. Your entry is fed instantly into the database, and your email address is checked for duplicates. Passwords are encrypted into the database and will not be seen by anyone else other than you. If left blank, a password will be generated for you.
If you encounter problems, please feel free to .
The fields with asterisks (*) are required fields.