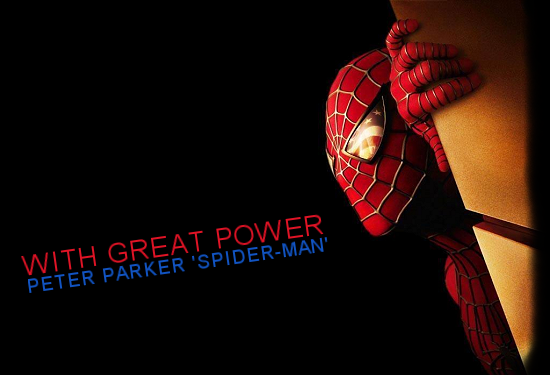 Welcome
to
With Great Power
, the fanlisting for one of my all-time favorite characters and heroes,
Peter Parker 'Spider-Man'
that's listed at
The Fanlistings Network
. If you're a fan of your friendly neighborhood Spider-Man, please consider
joining
! It's easy, it's free, and it just shows that you're a fan! :)
Fanlisting Stats
Online since: 24th June 2011
Last update: 28th November 2023
Current members: 927 (+ 0)
Newest member(s): Ainna
Categories: Animation, Characters: Book/Movie, Comics

The Peter Parker 'Spider-Man' fanlisting was previously owned by Meaghan (still-enchanted.net), Hoppy (waking-empty.net), Cassie and Anna (fanizzle.org)


Website
Disclaimer: This is just a fansite. I don't know Tobey Maguire, anyone from Marvel Comics or know anyone who does. I'm just a fan like you.